Advanced Spindle Technology, LLC expertly services and rebuilds high-performance spindles. We specialize in meeting the critical needs of the manufacturing market for precision servicing to return your machine to working order as quickly as possible, saving you valuable time and resources.
You want a provider and technicians who know your equipment and how to service it.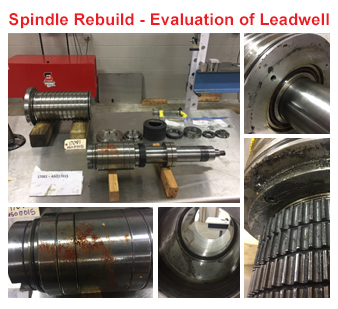 We have the knowledge, equipment, and capability to meet your expectation and to offer you a rebuilt spindle in "better than new" condition. AST has the unique capacity to maintain and repair virtually any brand and type of spindle for any machine or piece of equipment. We provide expert service for your part, to return it to you in better than working condition.
With over 350 spindle manufacturers, all ranging in configuration and technology, it takes an extensive amount of technical knowledge to prescribe, diagnose, and rectify problems with a specific type of spindle rebuild. Precision spindles require specialized technology just not available to a vast majority of the market.
AST is uniquely trained and able to provide spindle repair and spindle rebuild services to our customers for a wide range of brand manufacturers. Specially equipped and positioned to repair high-performance spindles for advanced machines, AST has built a reputation based on exact precision and accuracy.
Another critical component our customers look for is a provider with the necessary technical capability to avoid jeopardizing the functionality of their machine. We recognize that our customers require a partner whose training is not limited to servicing only a handful of brands, leading to higher customer costs. The skilled technicians at AST have experience working with a wide variety of precision spindles from manufacturers around the world. Our technicians work regularly with over 300 OEM spindle brands to ensure our customers retain the quality and integrity of their machines.
AST is your one-stop partner for spindle repair services and spindle rebuild needs. Don't leave the outcome of a quality piece of machinery in the hands of ill-equipped and inexperienced providers. Servicing or remanufacturing your equipment is always an option you should explore before spending your hard-earned money on an unnecessary total replacement.
Take a look at just a few of the brands we have extensive experience servicing and rebuilding.
The list goes on and grows each day as we continue to partner with our high-caliber equipment manufacturers. We are confident in our ability to return your machine to you in perfect working order.
AST is a member of HEH Group, and we take pride in providing customers with customized machining, engineering, and automation solutions. Our facilities offer start-to-finish manufacturing and rebuild solutions for spindle repair. AST regularly boosts its full capacity and updates its technology, allowing us to deliver and get the job done.
AST is customer-focused, technology-based, and value-driven. We continue to meet the critical need of the manufacturing market, and we are ready to be your direct spindle service partner.
Need a spindle repair quote? Request one online now.